There's no sugar-coating it: interest rates are forcing homebuyers to dig deeper into their pocketbooks.
And come July 13, they may need to dig even deeper. That's the next Bank of Canada meeting, when it's widely expected that BoC will make its largest rate hike yet this year: 75 basis points.
"If you're looking to buy a house in Canada, it's imperative to speak to a mortgage broker and lock in at the current rates," says Michael Carney, Director of Business Development at HouseSigma, and an active realtor in the GTA. "Otherwise, you risk grappling with the highest stress test Canadians have ever faced," he adds.
Bank of Canada's overnight lending rate currently sits at 1.5 per cent. It hasn't been above 1.75 per cent since the stress test was introduced in 2016.
"If the Bank of Canada raises rates a further 0.75 per cent like anticipated, we're looking at an overnight lending rate of 2.25 per cent. That means Canada's stress test will be in uncharted territories," explains Carney.
What is Canada's mortgage stress test, exactly?
Simply put, borrowers need to show that they can afford to pay their mortgage at a higher rate. They need to either qualify at 5.25 per cent, or two per cent higher than what the bank is offering, whichever is greater. (The stress test used to apply to mortgages with down payments of less than 20 per cent. As of June 2021, it applies to all mortgages).
Let's compare with the last time BoC rate was 1.5 per cent.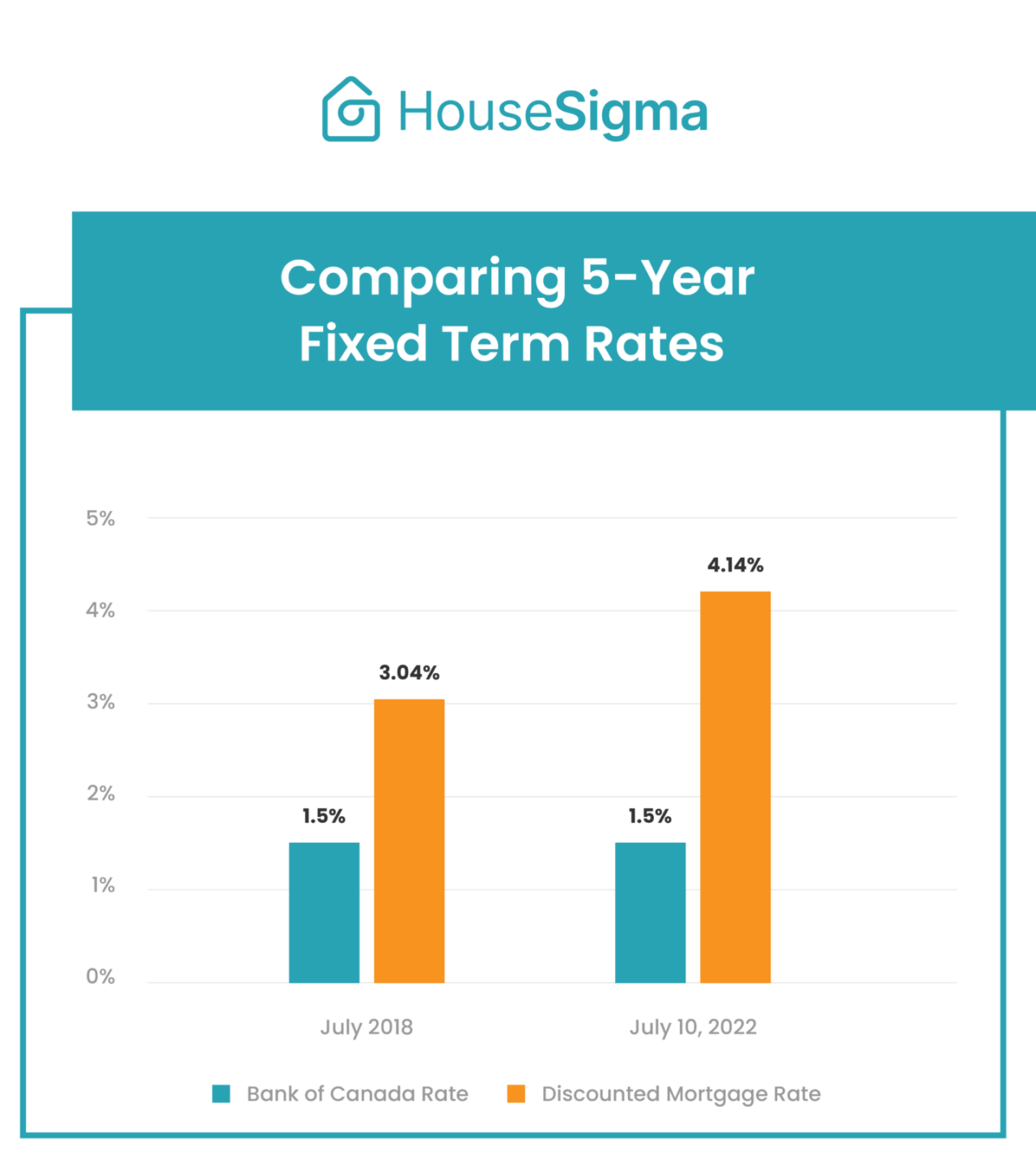 Even at the same BoC rate, you can see that banks today are offering higher rates.
Effects of the mortgage stress test if Bank of Canada rate hits 2.25%
The last time BoC rate was 2.25 per cent was back in April 2009. Even then, the discounted mortgage rate was only 3.85 per cent. And there was no stress test to pass in 2009.
If BoC does indeed hike rates 75 basis points, the stress test will truly put stress not just on new borrowers, but also people whose mortgages are up for renewal.
This is where Hao Li, a Vancouver-based broker with HouseSigma, sees a possible stress test of seven per cent or more if BoC lives up to speculation.
"For people who are up for renewal, they should ideally shop around for the best rate – but that means facing the higher stress test. The only way to avoid that is to stay with their current lender, but that could mean paying a higher rate than necessary," explains Li.
"In fact, some people may already have shopped around and found that they couldn't pass the higher stress test, leading them to renew with their current lender at a less attractive rate. This could happen in cases where buyers had stretched themselves to their budgetary limits when they first purchased their home," adds Li.
How does the mortgage stress test affect buying power?
Here's a simplified scenario (mortgage amortized over 25 years)
July 2017: You need a $500,000 mortgage. At a stress test of 5.25 per cent, you need to show you can make payments of $2,980 every month. 
July 2022: For that same $500,000 mortgage, a stress test of 7 per cent means you need to show you can make payments of $3,502 every month. 
"As the Canadian real estate market cools, many buyers may be looking to take advantage of lower pricing and increased inventory, but the stress test will present a significant challenge for first time homebuyers," explains Carney. "Buyers will either make up the difference with a higher down payment, or reduce their budget. 
---
Looking to stay informed on how the real estate market is doing in BC and Ontario? Sign up with HouseSigma. Our AI pulls real-time data for the most up-to-date market trends and sold data.