Bank of Canada just raised its overnight lending rate by 0.5%, bringing it to 1.5%. This is the third hike this year. The first one occurred in March, which upped the pandemic-low Overnight Lending Rate from 0.25% to 0.5%. Then, another hike in April raised it to 1%.
Many buyers had already locked in a lower rate at the beginning of the year. Today's data is giving us a wider glance at the full effect of rising rates on BC's real estate market.
Here are highlights from the latest real estate data compiled by HouseSigma (as of June 1st):
New Westminster (-14.71%) and Port Moody (-11.48%) join Surrey (-14.21%), Maple Ridge (-14.84%), and Langley (-12.00%) in experiencing double-digit dips in median detached home prices.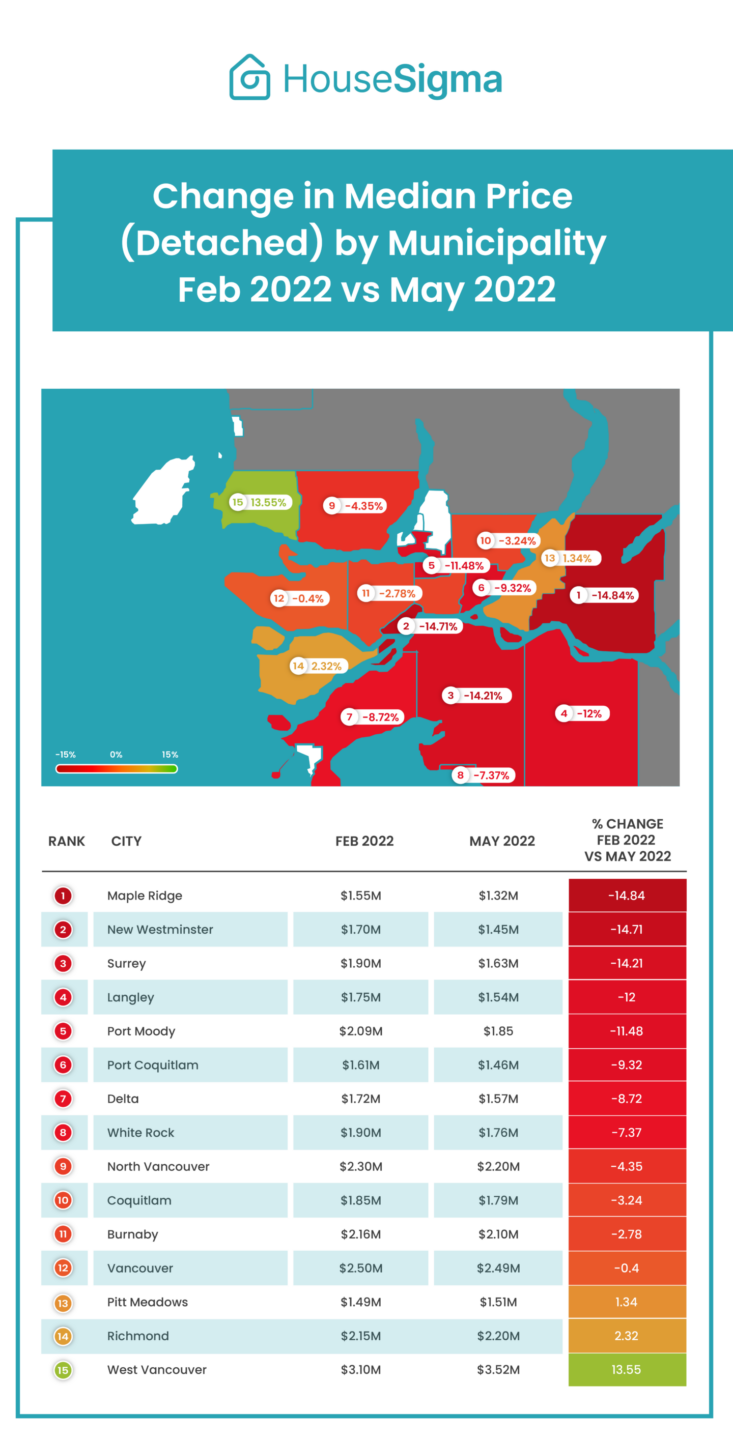 "We're now starting to see the full effect of rising interest rates on buyers and sellers' habits," says Hao Li, a broker with HouseSigma. "These double digit dips in detached home averages in areas like Surrey and Maple Ridge highlight the pullback that's happening in BC's market."
The median sold price of all property types in Greater Vancouver for May stands at $922K, which is down 12.11% since February.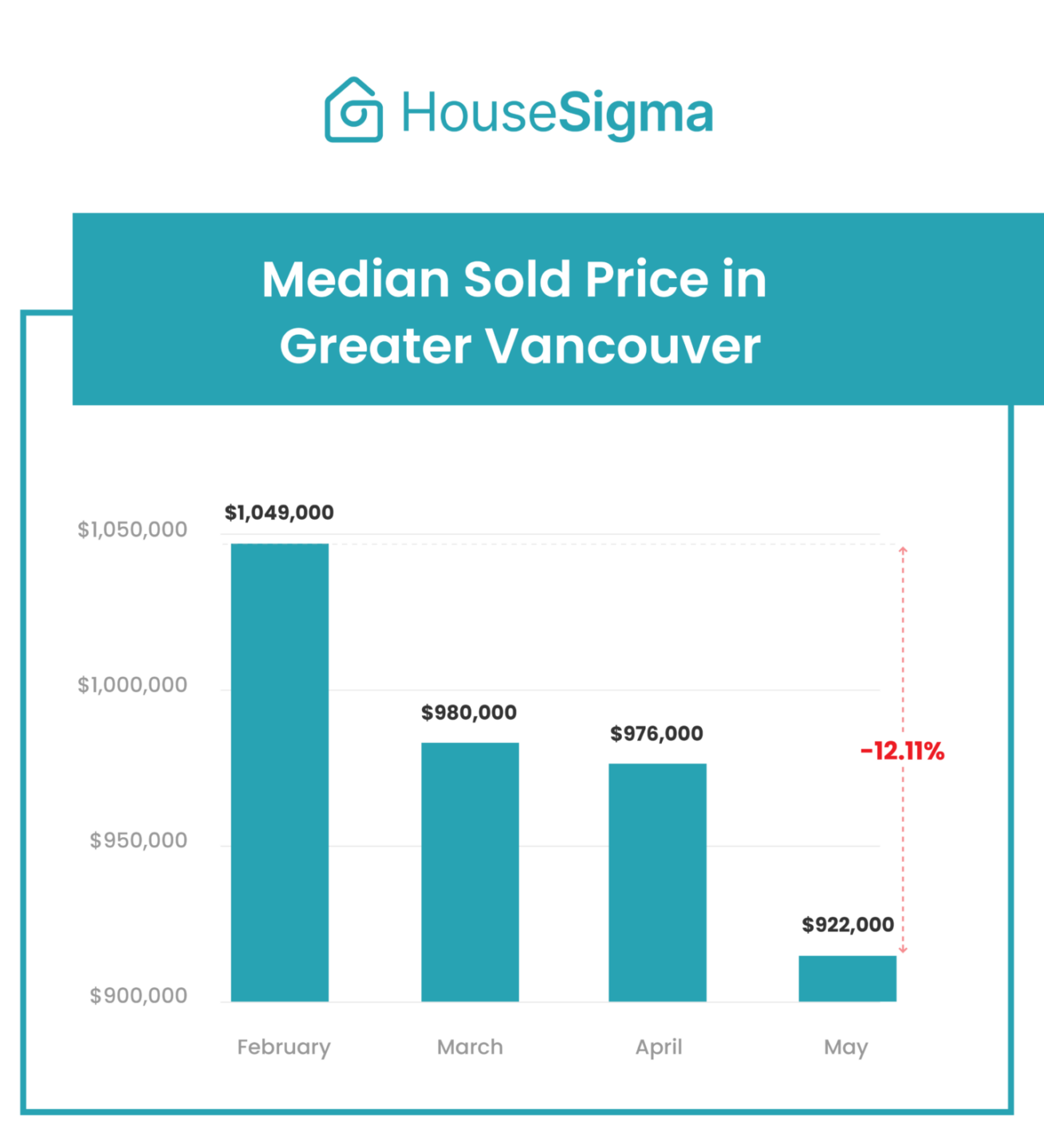 Listings are also sitting on the market longer. In May, the average was 32 days. Back in February, before BoC started raising rates, listings were on the market an average of just 9 days. That means listings are sitting 71.9% longer.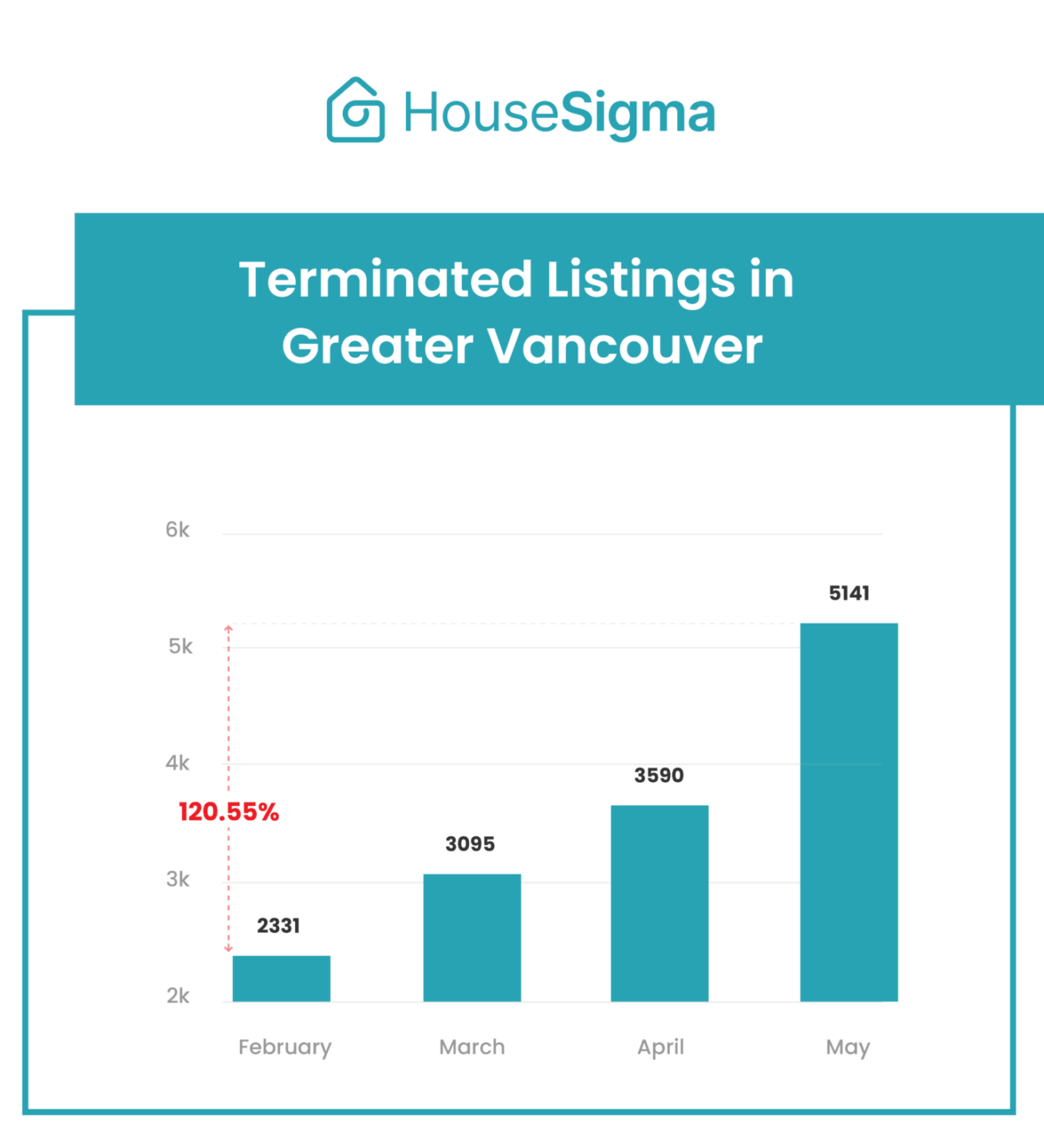 "This is an indication that buyers are taking their time, and no longer feel rushed into buying a property," says Hao Li, a broker with HouseSigma. "They're realizing that if they wait, they may either see a drop in price, or find a property that ticks off more boxes."
"An increasing number of listings are being terminated, meaning they haven't sold during a specified time," says Li.
"There are a few reasons why a listing gets terminated. One reason is the 'offer day' scenario. If the seller doesn't get an attractive offer that day, the listing will get terminated then relisted as a new listing to once again attract new potential buyers. The seller's agent may then decide to relist the property. Another reason for a termination is simply that the seller has decided to remove the property from the market, maybe because it has sat too long, or maybe because the seller wants to wait for the market to improve."
"Buyers scrambled to find a property during the pandemic, raising prices at a pace we've never seen before. Since the Bank of Canada started raising rates, buyers have steadily taken a more 'wait-and-see' approach to buying a home, and sellers have had to adjust their sale price expectations."
The Bank of Canada has hinted that it could raise rates to 3% or more to target the country's rising inflation. Sign up to HouseSigma to get real-time data on real estate and keep track of how rising rates are affecting the market. You can count on HouseSigma's proprietary AI to compile the most up-to-date estimates on home values, market trends, and investor reports