Another month, another drop.
If you thought rising rates would have a temporary cooling effect on the housing market – well, time to rethink. Looks like 'temporary' is turning into a bonafide trend.
Amid this unpredictability, Canadian home buyers can look to our AI-powered real estate platform to track the housing trends. This time around, we're looking at how much Metro Vancouver home prices have dropped in June.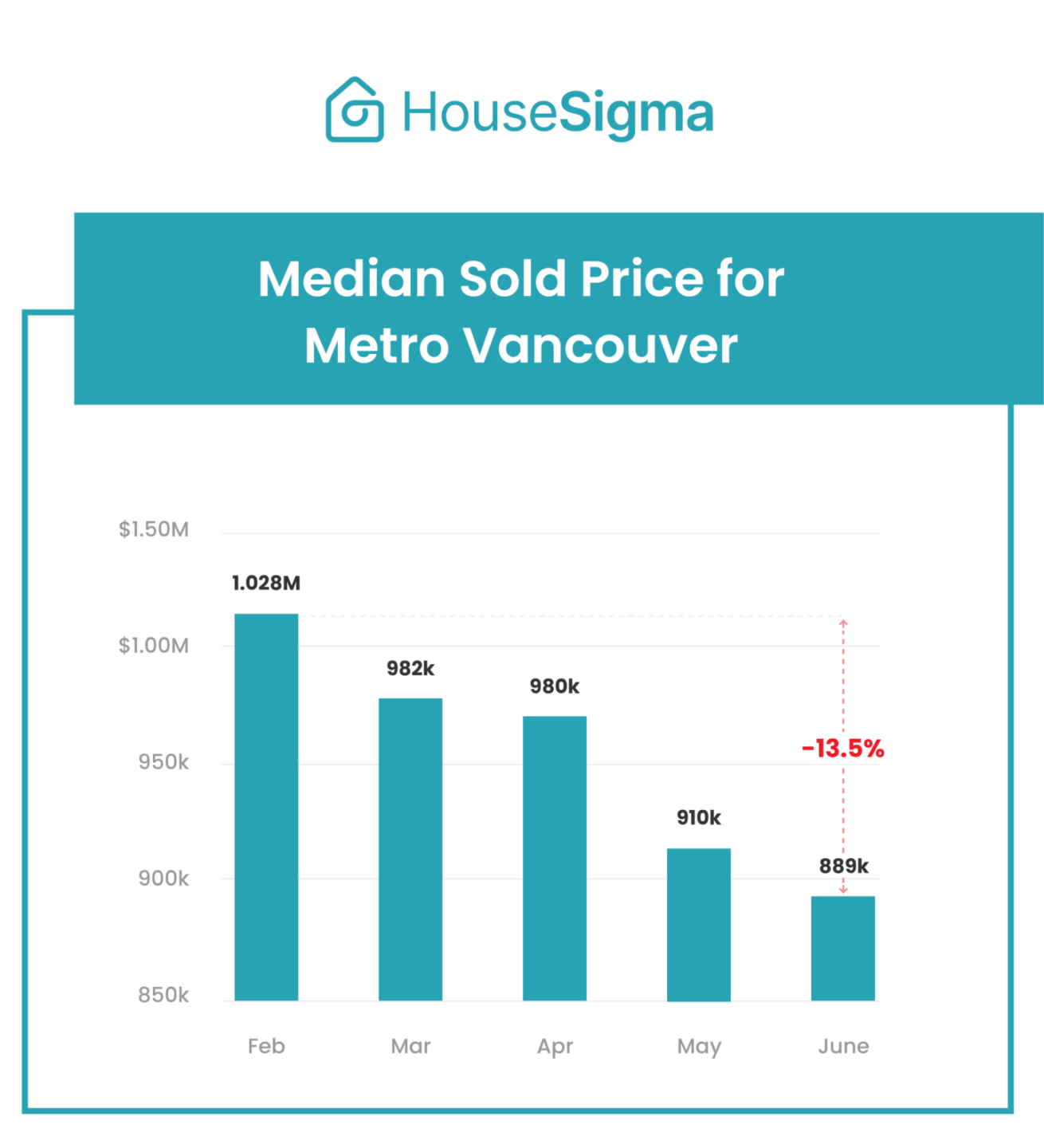 It's more good news for buyers, but not so much for sellers. Last month, medians* dipped a further two per cent from May. Averages for all property types have slid 13.5 per cent since February. But certain municipalities stand out.
Metro Vancouver municipalities see median* home prices drop significantly.
Leading the way is Delta, with median* home prices dropping 28.3 per cent since February. Surrey and Maple Ridge aren't far behind, down 23.4 per cent and 23.2 per cent respectively.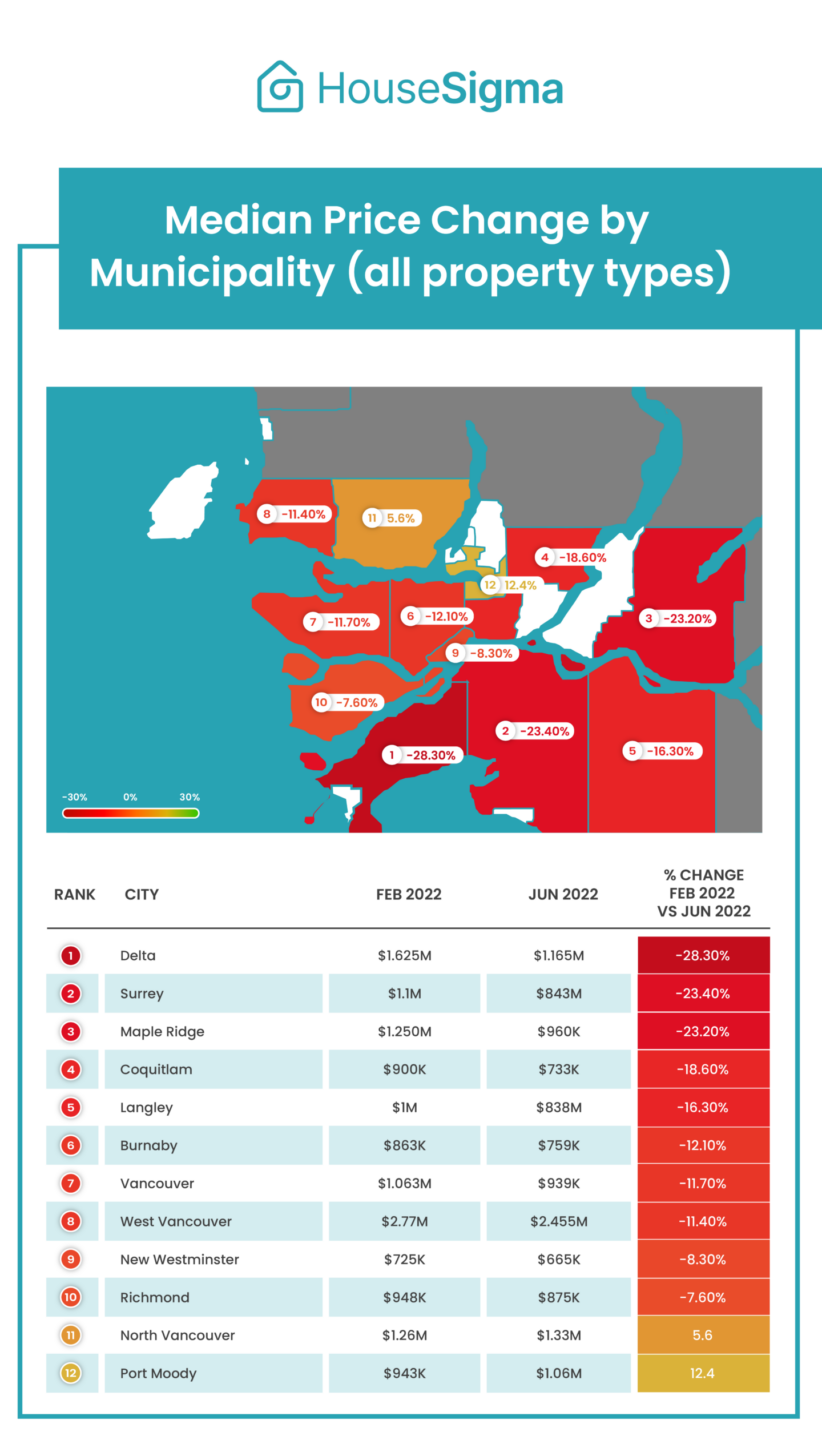 In Delta, the average price for all property types fell to $1.165M, down from a 15-year high of $1.625M in February. In Surrey, median* prices went from $1.1M in February to $843K in June. In Maple Ridge, the average went from $1.25M to $960K. 
"Median prices have been dropping consistently and considerably since the Bank of Canada started hiking interest rates earlier this year," says Hao Li, a Vancouver-based broker with HouseSigma.
"We're in a market where buyers are feeling emboldened. More and more buyers are holding the upper hand in real estate transactions, sensing that there's an opportunity here to successfully negotiate with sellers for a lower purchase price."
How Metro Vancouver's overall real estate market is shaping up
In BC's cooling real estate market, potential home sellers may be wondering how much their property is worth. The numbers are not in their favour.
"The dropping percentages are drastic, but remember that we're still in correction-mode," explains Li. "During the pandemic, interest rates were at an all time low, and there was a real estate buying frenzy. It led to over-inflated home prices.
"The year over year percentage nearing zero means we're approaching June 2021 prices. Most would still consider those prices high and unaffordable."
So far, Metro Vancouver median* prices for all property types have dropped from $1.028M in February to $889K in June.
Year over year though, median* prices in Metro Vancouver are still up, but just 0.5 per cent. 
In June 2021, the median* price for all properties averaged $885K. In June 2022, the average was $889K.
Bank of Canada may hike rates again
Canada is doing what it can to stem the tide of inflation. The Bank of Canada has been systematically raising rates since March, and it's due to meet again July 13.
It's widely expected that BoC will raise the rate once more at that meeting. Canada's inflation stands at 7.7 per cent, the highest it's been since 1983. Back then, the overnight lending rate was close to 10 per cent. The current lending rate is a mere fraction of that, at 1.5 per cent.
"A July interest rate hike could potentially dial back Metro Vancouver home prices to pre-pandemic levels. It all depends on how aggressive the Bank of Canada is willing to go with rates to battle inflation," adds Li.
*Median home price is the midpoint of sales prices where an equal number of properties were sold above and below this sales price; whereas Benchmark home price is the estimate of the value of a "typical" home in a community, based on the most popular combination of features, e.g., age, size, number of bedrooms and bathrooms.
---
Are the rising interest rates a major factor in your home-buying journey? Stay up-to-date with a HouseSigma account. Get free, instant access to all the real estate data our AI compiles. Create a watchlist, track properties, and see how homes are moving in the neighbourhoods that interest you.