It seems even the most luxurious communities in Metro Vancouver can't escape the housing cooldown.
HouseSigma's AI analyzes historical data from real estate boards in BC and compiles data from June 2021 to June 20, 2022. Here is a look at the communities in Vancouver, West Vancouver, and North Vancouver that experience the biggest median detached home price drop year over year.
*Rolling medians on our reports can vary slightly due to HouseSigma's real time data
**We could list every city and every neighbourhood in a blog post, but the post would be quite long! Please visit our Market Trends page for the communities that interest you to get the latest data.
Vancouver's Shaughnessy had median detached home values drop by 25% percent. West Vancouver's British Properties dropped 16%. And in North Vancouver, Edgemont saw its detached home prices dip 12%.
"Shaughnessy and British Properties are well-recognized among Metro Vancouver residents as 'luxury' home markets. To see these neighbourhoods experiencing the biggest median home price dips within their cities is a little surprising," says Hao Li, a broker with HouseSigma.
"Luxury home markets tend to be more immune to interest rate hikes," Li explains. "Buyers in these areas are likely not salary dependent. They probably have multiple sources of income and have kept a close relationship with the bank. So the likelihood of the bank granting them a mortgage will be higher based on their assets, not salary level."
"That being said, when you see areas like Shaughnessy or British Properties drop double digits, you can't help but pay attention to what's happening to the housing market as a whole," adds Li.
"Keep in mind, in affluent home markets, there tend to be fewer properties making up the overall picture," adds Li. "This means averages and medians could change significantly based on just one or two sales. The advantage of HouseSigma's platform is that you can find hyper-specific information on the communities you're interested in, and see how properties are faring in those areas."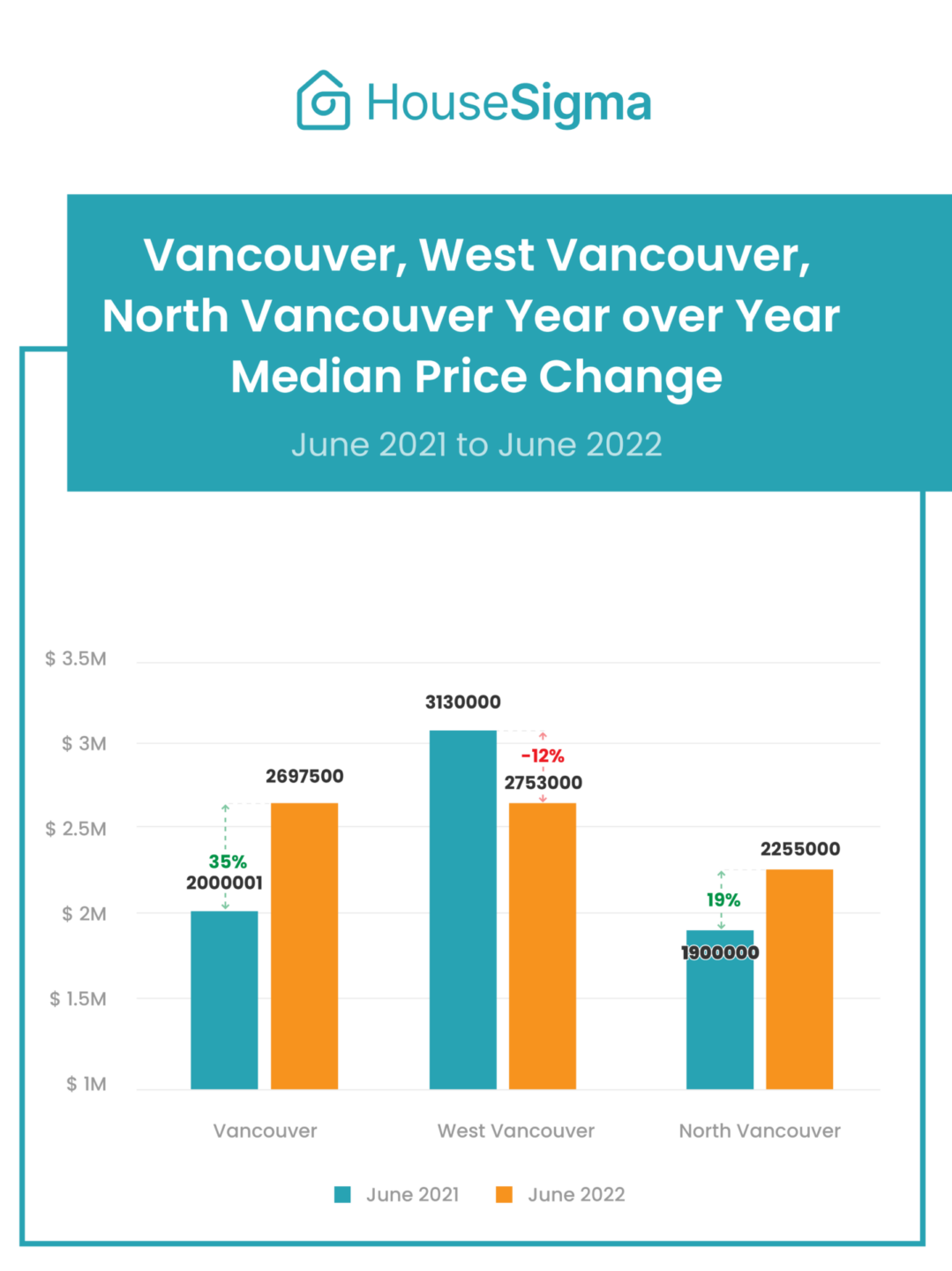 Looking at the broader picture, West Vancouver has experienced a 12% drop in overall detached home prices year over year. But Vancouver and North Vancouver are still ahead year over year, at 35% and 19% growth, respectively.
"Seeing Vancouver's median detached home prices still up 35 percent year over year, it makes you wonder just how high rates need to go before those averages hit the negative mark," adds Li.
The Bank of Canada's next meeting is July 13th. The BoC will decide then if it will raise its overnight lending rate for the fourth time this year. The rate currently stands at 1.5%. BoC started raising rates in March to combat inflation.
---
Are you looking to buy, sell, or invest in a property? Sign up with HouseSigma and start searching for your next home on your own terms. Our AI updates stats in real time, giving you the most up-to-date information in the communities you're interested in.
We're constantly adding to the site's features, in our attempt to make your real estate journey a transparent one.